VILLAGE OF VOLENDAM
Visit the old picturesque fishing village Volendam
Duration: 4 hours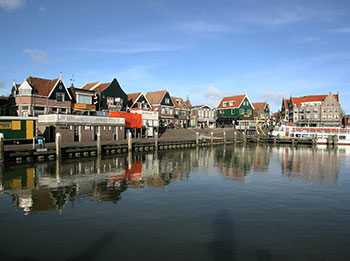 Volendam is a popular place in the Netherlands, well-known for its old fishing boats and the traditional clothing still worn by some residents. As a result of its completely secluded location, this village preserved its character for six centuries, also because of the tough vitality of the fishermen.
The characteristic small houses, which together with the canals and the drawbridges form the most picturesque spots, present the visitor an atmosphere of geniality and romance. The women's costume of Volendam, with its high, pointed bonnet, is one of the most recognizable of the Dutch traditional costumes, and is often featured on tourist postcards and posters.
Volendam also features a small museum about its history and clothing style, and visitors can have their pictures taken in traditional Dutch costumes.