BRUGES
Visit Bruges with us, a well spend day
Duration: 10 hours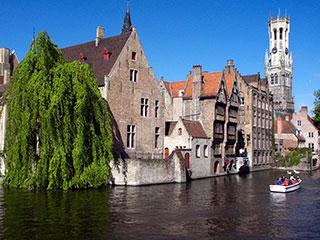 Let's go back to medieval times. Come with us on a 3 hour drive to this former European central market place, dating from the 14th century. Enjoy the scenic drive into Belgium, a former part of The Netherlands. Admire the changing landscapes and the picturesque little villages along the way and enjoy the peaceful tranquillity of the Flanders fields.
Well rested, we will arrive in medieval Bruges where the defensive walls and ancient city gates welcome us from afar. As Bruges is truly a walking city, we will leave the car behind and continue our journey on foot. Let us show you the enchanting highlights of this charming, fully restored medieval city, or alternatively, if you choose to go by yourself, we will show you exactly where to visit and how to get there.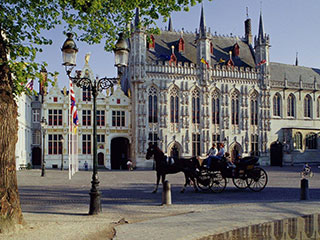 While walking around this beautiful old town, its wealth becomes evident, with the impressive market square and little shopping streets where the faint bouquet of chocolate arouses your senses. It is also known for its unique museums, where you can find the only Sculpture of Michelangelo outside of Italy. This marble sculpture, "Lady Madonna with Child" is on display at the "Church of Our Lady" hard to miss because it has one of the highest gothic brick towers in the world which at 120 metres stands majestically above the town. Maybe have a welcome break in between to try one of the hundreds of delicious locally brewed beers in one of the many charming pubs. Or maybe you would like to browse in one of the many charming lace-shops which you will find scattered all over this ancient place. Bruggians will proudly show you the ins and outs of the old preserved craft of lace-making.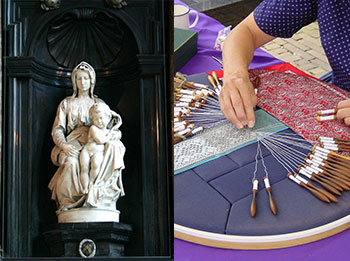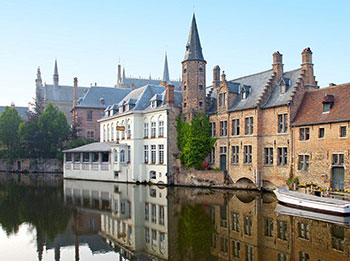 A canal tour with one of the specially designed boats will give you a much better insight in past and present and is also a pleasant way to work up an appetite. Bruges is a great place to get some original and tasteful souvenirs which will be greatly appreciated by your friends and family. After all this it's time to leave those hospitable Belgians behind and commence the journey back to Amsterdam where you can look back on a well spent day with lots of new experiences, and full of freshly made memories.
Because of the heavy traffic we can only perform this tour in luxury style on Saturday and Sunday.